RUDIS Great Wave Crewneck
Sale price
$43
Regular price
$72 USD
Unit price
per
Product Overview

The RUDIS Great Wave Crewneck is a perfect long-sleeved, all-day wear for the stylish wrestler pursuing excellence. This beautiful crewneck is a reflection of Japanese art, symbolizing the connection between the legendary Dave Schultz and legendary Japanese swordsman, Miyamoto Musashi.
Care & Maintenance

Do Not Iron
Normal Cycle
Use Non-Chlorine Bleach
Wash Cold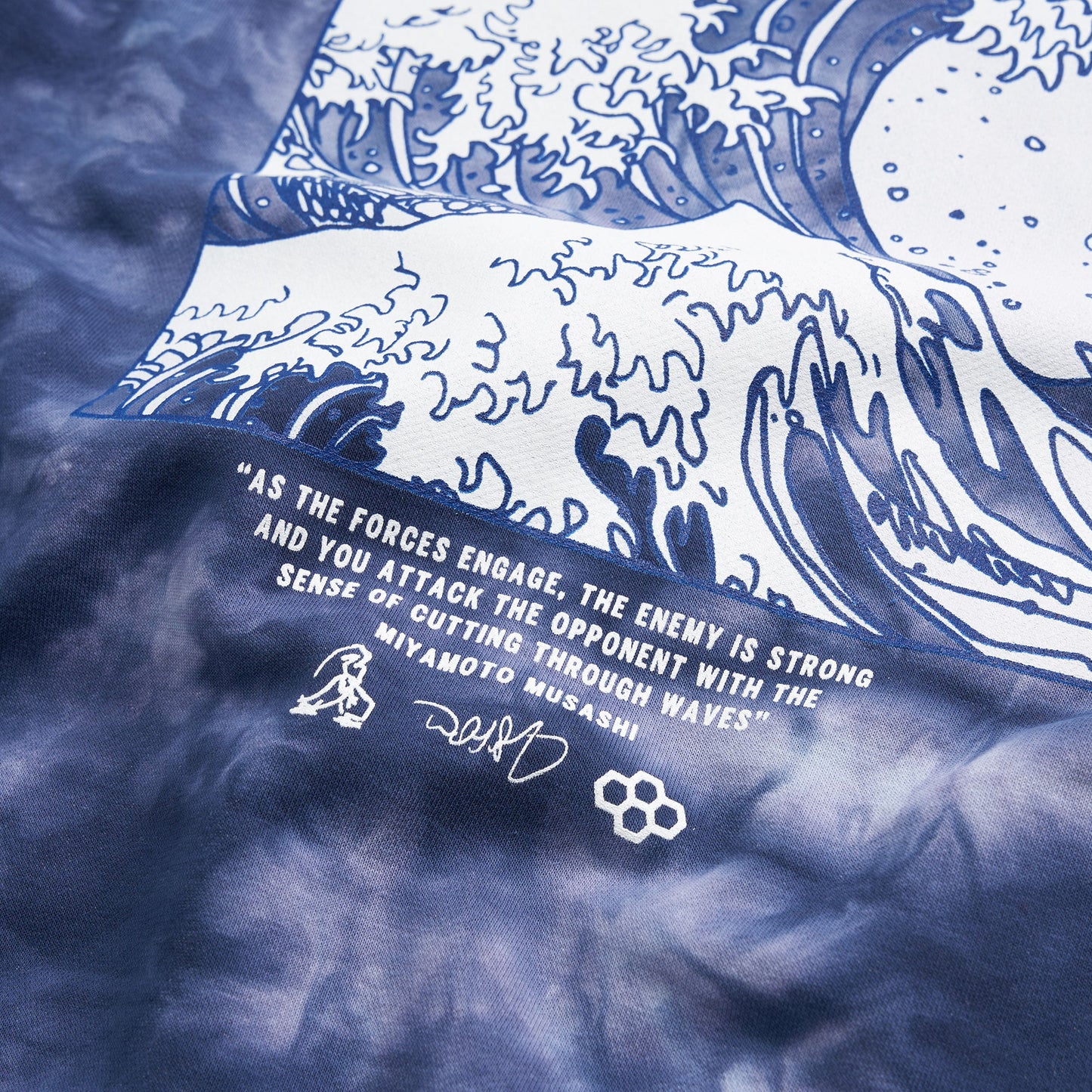 Size Chart
Size chart includes sizing information for apparel, socks, men's, women's, and youth singlets. Scroll down for more information.
Apparel Size Chart
| SIZE | CHEST (IN) | WAIST (IN) | HIPS (IN) |
| --- | --- | --- | --- |
| XS | 33-36 | 26-28 | 33-36 |
| SM | 36-38 | 31-32 | 35-37 |
| MD | 38-40 | 32-34 | 37-41 |
| LG | 42-44 | 34-36 | 42-46 |
| XL | 46-49 | 36-40 | 44-48 |
| 2XL | 50-54 | 42-46 | 46-50 |
| 3XL | 54-58 | 47-52 | 52-58 |
Sock Size Chart
| SOCK SIZE | MEN'S SHOE SIZE | WOMEN'S SHOE SIZE | YOUTH SIZE |
| --- | --- | --- | --- |
| YOUTH | - | 4-8 | 1 - 5.5 |
| SM | 5.5 - 8 | 8 - 10 | - |
| MD | 8 - 10 | 10 - 12 | - |
| LG | 10 - 12 | - | - |
| XL | 12 - 14+ | - | - |
Men's Singlet Size Charts 
Men's Elite 2.0 Singlet Size Chart  
|  SIZE | WAIST (IN) | CHEST (IN) | LENGTH (IN) | APPROX. WEIGHT (LBS) |
| --- | --- | --- | --- | --- |
| XS | 24 1/2 | 27 | 30 1/4 | 79-105 |
| SM | 26 3/4 | 29 1/2 | 32 | 106-135 |
| MD | 29 | 32 | 32 3/4 | 136-160 |
| LG | 31 1/4 | 34 1/2 | 33 1/2 | 161-195 |
| XL | 33 1/2 | 37 | 34 | 196-225 |
| 2XL | 35 3/4 | 39 1/2 | 35 | 226-260 |
| 3XL | 38 | 42 | 36 | 261+ |
Men's/Youth Elite Singlet Size Chart
| SIZE | WAIST (IN) | CHEST (IN) | LENGTH (IN) | APPROX. WEIGHT (LBS) |
| --- | --- | --- | --- | --- |
| 3XS | 20 | 22 | 25 | 45-60 |
| 2XS | 22 1/4 | 24 1/2 | 27 | 59-80 |
| XS | 24 1/2 | 27 | 30 1/4 | 79-105 |
| SM | 26 3/4 | 29 1/2 | 32 | 106-135 |
| MD | 29 | 32 | 32 3/4 | 136-160 |
| LG | 31 1/4 | 34 1/2 | 33 1/2 | 161-195 |
| XL | 33 1/2 | 37 | 34 | 196-225 |
| 2XL | 35 3/4 | 39 1/2 | 35 | 226-260+ |
Youth Elite 2.0 Singlet Size Chart
|  SIZE | WAIST (IN) | CHEST (IN) | LENGTH (IN) | APPROX. WEIGHT (LBS) |
| --- | --- | --- | --- | --- |
| Y3XS | 17 | 17 1/2 | 15 | 20-30 |
| Y2XS | 18 | 19 | 18 | 30-45 |
| YXS | 20 | 21 | 22 | 45-55 |
| YSM | 20 | 22 | 24 | 55-60 |
| YMD | 22 1/4 | 24 1/4 | 26 1/2 | 60-80 |
| YLG | 24 1/4 | 27 | 28 1/2 | 75-85 |
| YXL | 24 1/4 | 27 | 29 1/2 | 80-105 |
Women's Singlet Size Charts 
Women's Elite 2.0 Singlet Size Chart
| SIZE | WAIST (IN) | BUST (IN) | HIP (IN) | LENGTH (IN) | APPROX. WEIGHT (LBS) |
| --- | --- | --- | --- | --- | --- |
| XS | 24-26 | 26-30 | 30-34 | 25 1/2 | 80-110 |
| SM | 26-28 | 30-34 | 34-38 | 26 1/2 | 110-125 |
| MD | 28-30 | 34-38 | 38-40 | 27 1/4 | 125-145 |
| LG | 30-34 | 38-42 | 40-44 | 28 1/4 | 145-160 |
| XL | 34-38 | 42-48 | 44-48 | 29 1/2 | 160-175 |
| 2XL | 38-42 | 48-52 | 48-52 | 31 | 175-180 |
| 3XL | 40-44 | 50-54 | 50-54 | 32 1/4 | 180+ |
Women's Singlet Size Chart
| SIZE | WAIST (IN) | BUST (IN) | HIP (IN) | LENGTH (IN) | APPROX. WEIGHT (LBS) |
| --- | --- | --- | --- | --- | --- |
| 3XS | 14-18 | 16-20 | 18-24 | 23 1/4 | 40+ |
| 2XS | 18-24 | 20-26 | 24-30 | 24 1/2 | 60-80 |
| XS | 24-26 | 26-30 | 30-34 | 25 1/2 | 80-110 |
| SM | 26-28 | 30-34 | 34-38 | 26 1/2 | 110-125 |
| MD | 28-30 | 34-38 | 38-40 | 32 3/4 | 125-145 |
| LG | 30-34 | 38-42 | 40-44 | 33 1/2 | 145-160 |
| XL | 34-38 | 42-48 | 44-48 | 34 | 160-175 |
| 2XL | 38-42 | 48-52 | 48-52 | 35 | 175+ |
Girl's Elite 2.0 Singlet Size Chart
| SIZE | WAIST (IN) | CHEST (IN) | LENGTH (IN) | APPROX. WEIGHT (LBS) |
| --- | --- | --- | --- | --- |
| Y3XS | 17 | 17 1/2 | 15 | 20-30 |
| Y2XS | 18 | 19 | 18 | 30-45 |
| YXS | 20 | 21 | 22 | 45-55 |
| YSM | 20 | 22 | 24 | 55-60 |
| YMD | 22 1/4 | 24 1/4 | 26 1/2 | 60-80 |
| YLG | 24 1/4 | 27 | 28 1/2 | 75-85 |
| YXL | 24 1/4 | 27 | 29 1/2 | 80-105 |
Wrestling Shoe Laces
| SHOE SIZE | LENGTH (IN) |
| --- | --- |
| 1 - 3 | 52" |
| 4 - 7 | 57" |
| 7.5 - 10 | 62" |
| 10.5 - 14 | 67" |
Journey Oval Shoe Laces
| SHOE SIZE | LENGTH (IN) |
| --- | --- |
| 1 - 2 | 49" |
| 2 - 4 | 53" |
| 4 - 7 | 55" |
| 7.5 - 10 | 58" |
| 10.5 - 14 | 61" |
RUDIS Great Wave Crewneck
Frequently Bought Together