RUDIS Blitz Classic Hoodie
Sale price
$45
Regular price
$75 USD
Unit price
per
Product Overview

Our Polyester/Elastane fabric is lightweight and flexible, designed with meticulous attention to detail. Smooth, flatlock seams lay flat against your skin, minimizing bulk and enhancing aerodynamics. Every aspect has been considered to let you focus on what matters most.
Features

2" Leg Band for Optimized Fit
Improved athletic fit
Made of Poly/Elastane Double-Knit fabric forlightweight stretch
Mesh Back and Gusset Panels for Breathability
Wicks moisture and dries quickly
Product Story

The RUDIS Blitz Classic Hoodie is classic, simple, and stylish ideal for a wrestlers everyday wear.
Care & Maintenance

LOW IRON IF NEEDED
NON-CHLORINE BLEACH
TUMBLE DRY LOW
WASH ON COLD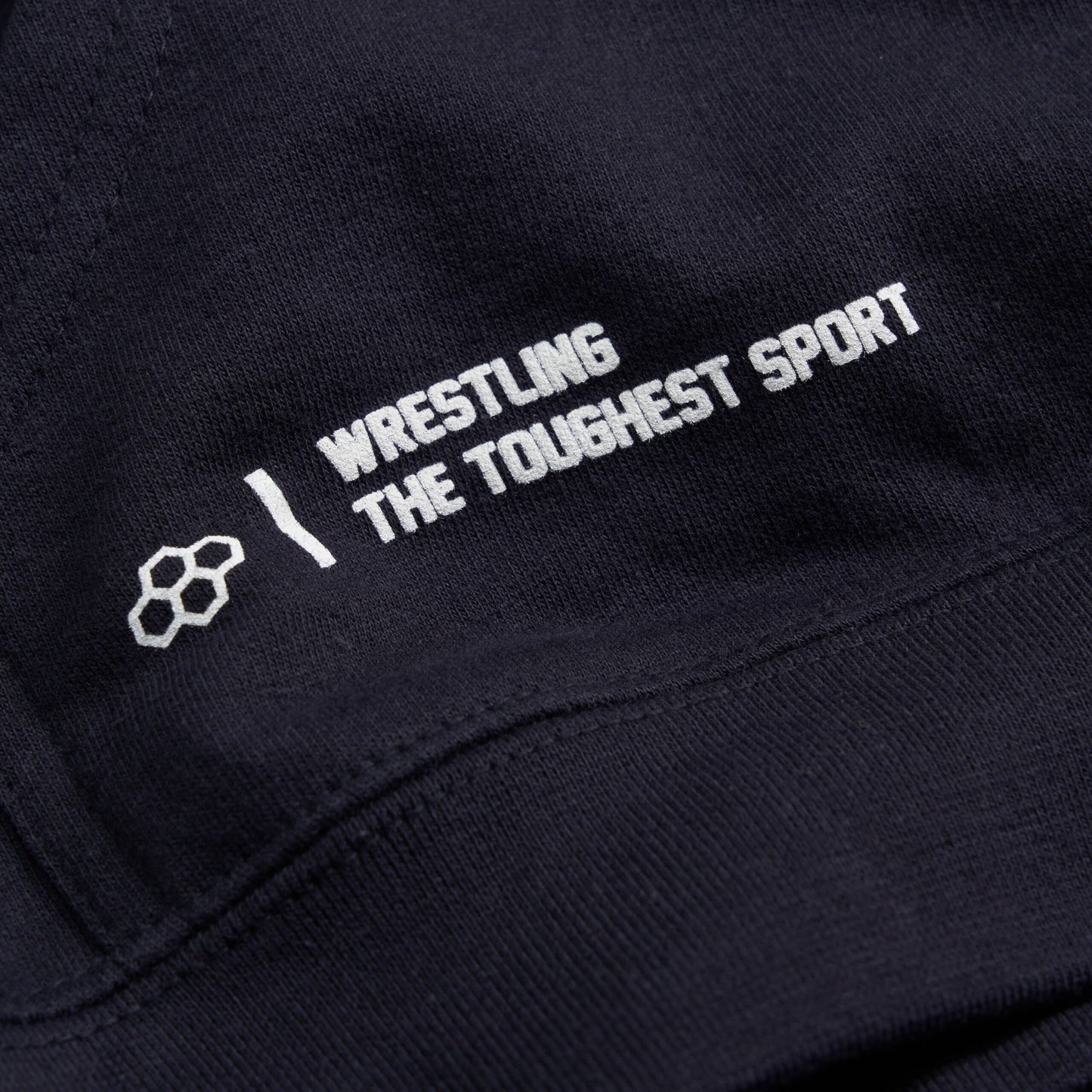 Size Chart
Size chart includes sizing information for apparel, socks, men's, women's, and youth singlets. Scroll down for more information.
Apparel Size Chart
| SIZE | CHEST (IN) | WAIST (IN) | HIPS (IN) |
| --- | --- | --- | --- |
| XS | 33-36 | 26-28 | 33-36 |
| SM | 36-38 | 31-32 | 35-37 |
| MD | 38-40 | 32-34 | 37-41 |
| LG | 42-44 | 34-36 | 42-46 |
| XL | 46-49 | 36-40 | 44-48 |
| 2XL | 50-54 | 42-46 | 46-50 |
| 3XL | 54-58 | 47-52 | 52-58 |
Sock Size Chart
| SOCK SIZE | MEN'S SHOE SIZE | WOMEN'S SHOE SIZE | YOUTH SIZE |
| --- | --- | --- | --- |
| YOUTH | - | 4-8 | 1 - 5.5 |
| SM | 5.5 - 8 | 8 - 10 | - |
| MD | 8 - 10 | 10 - 12 | - |
| LG | 10 - 12 | - | - |
| XL | 12 - 14+ | - | - |
Men's Singlet Size Charts 
Men's Elite 2.0 Singlet Size Chart  
|  SIZE | WAIST (IN) | CHEST (IN) | LENGTH (IN) | APPROX. WEIGHT (LBS) |
| --- | --- | --- | --- | --- |
| XS | 24 1/2 | 27 | 30 1/4 | 79-105 |
| SM | 26 3/4 | 29 1/2 | 32 | 106-135 |
| MD | 29 | 32 | 32 3/4 | 136-160 |
| LG | 31 1/4 | 34 1/2 | 33 1/2 | 161-195 |
| XL | 33 1/2 | 37 | 34 | 196-225 |
| 2XL | 35 3/4 | 39 1/2 | 35 | 226-260 |
| 3XL | 38 | 42 | 36 | 261+ |
Men's/Youth Elite Singlet Size Chart
| SIZE | WAIST (IN) | CHEST (IN) | LENGTH (IN) | APPROX. WEIGHT (LBS) |
| --- | --- | --- | --- | --- |
| 3XS | 20 | 22 | 25 | 45-60 |
| 2XS | 22 1/4 | 24 1/2 | 27 | 59-80 |
| XS | 24 1/2 | 27 | 30 1/4 | 79-105 |
| SM | 26 3/4 | 29 1/2 | 32 | 106-135 |
| MD | 29 | 32 | 32 3/4 | 136-160 |
| LG | 31 1/4 | 34 1/2 | 33 1/2 | 161-195 |
| XL | 33 1/2 | 37 | 34 | 196-225 |
| 2XL | 35 3/4 | 39 1/2 | 35 | 226-260+ |
Youth Elite 2.0 Singlet Size Chart
|  SIZE | WAIST (IN) | CHEST (IN) | LENGTH (IN) | APPROX. WEIGHT (LBS) |
| --- | --- | --- | --- | --- |
| Y3XS | 17 | 17 1/2 | 15 | 20-30 |
| Y2XS | 18 | 19 | 18 | 30-45 |
| YXS | 20 | 21 | 22 | 45-55 |
| YSM | 20 | 22 | 24 | 55-60 |
| YMD | 22 1/4 | 24 1/4 | 26 1/2 | 60-80 |
| YLG | 24 1/4 | 27 | 28 1/2 | 75-85 |
| YXL | 24 1/4 | 27 | 29 1/2 | 80-105 |
Women's Singlet Size Charts 
Women's Elite 2.0 Singlet Size Chart
| SIZE | WAIST (IN) | BUST (IN) | HIP (IN) | LENGTH (IN) | APPROX. WEIGHT (LBS) |
| --- | --- | --- | --- | --- | --- |
| XS | 24-26 | 26-30 | 30-34 | 25 1/2 | 80-110 |
| SM | 26-28 | 30-34 | 34-38 | 26 1/2 | 110-125 |
| MD | 28-30 | 34-38 | 38-40 | 27 1/4 | 125-145 |
| LG | 30-34 | 38-42 | 40-44 | 28 1/4 | 145-160 |
| XL | 34-38 | 42-48 | 44-48 | 29 1/2 | 160-175 |
| 2XL | 38-42 | 48-52 | 48-52 | 31 | 175-180 |
| 3XL | 40-44 | 50-54 | 50-54 | 32 1/4 | 180+ |
Women's Singlet Size Chart
| SIZE | WAIST (IN) | BUST (IN) | HIP (IN) | LENGTH (IN) | APPROX. WEIGHT (LBS) |
| --- | --- | --- | --- | --- | --- |
| 3XS | 14-18 | 16-20 | 18-24 | 23 1/4 | 40+ |
| 2XS | 18-24 | 20-26 | 24-30 | 24 1/2 | 60-80 |
| XS | 24-26 | 26-30 | 30-34 | 25 1/2 | 80-110 |
| SM | 26-28 | 30-34 | 34-38 | 26 1/2 | 110-125 |
| MD | 28-30 | 34-38 | 38-40 | 32 3/4 | 125-145 |
| LG | 30-34 | 38-42 | 40-44 | 33 1/2 | 145-160 |
| XL | 34-38 | 42-48 | 44-48 | 34 | 160-175 |
| 2XL | 38-42 | 48-52 | 48-52 | 35 | 175+ |
Girl's Elite 2.0 Singlet Size Chart
| SIZE | WAIST (IN) | CHEST (IN) | LENGTH (IN) | APPROX. WEIGHT (LBS) |
| --- | --- | --- | --- | --- |
| Y3XS | 17 | 17 1/2 | 15 | 20-30 |
| Y2XS | 18 | 19 | 18 | 30-45 |
| YXS | 20 | 21 | 22 | 45-55 |
| YSM | 20 | 22 | 24 | 55-60 |
| YMD | 22 1/4 | 24 1/4 | 26 1/2 | 60-80 |
| YLG | 24 1/4 | 27 | 28 1/2 | 75-85 |
| YXL | 24 1/4 | 27 | 29 1/2 | 80-105 |
Wrestling Shoe Laces
| SHOE SIZE | LENGTH (IN) |
| --- | --- |
| 1 - 3 | 52" |
| 4 - 7 | 57" |
| 7.5 - 10 | 62" |
| 10.5 - 14 | 67" |
Journey Oval Shoe Laces
| SHOE SIZE | LENGTH (IN) |
| --- | --- |
| 1 - 2 | 49" |
| 2 - 4 | 53" |
| 4 - 7 | 55" |
| 7.5 - 10 | 58" |
| 10.5 - 14 | 61" |
RUDIS Blitz Classic Hoodie
Frequently Bought Together