Gray RUDIS Hex Premier Youth Joggers
Sale price
$55
Regular price
$55 USD
Unit price
per
Product Overview

RUDIS Premier Joggers are our most technical pants yet. Featuring 4-way stretch, moisture-wicking fabric with a premium feel, the Premier Joggers are designed for the best temperature control. An internal drawcord, small covered zippered pocket, and inner 2" gusset make these lifestyle pants versatile enough to withstand the toughest workouts. Designed with a roomy fit and tapered leg, these joggers are perfect for wrestlers.
Care & Maintenance

Do Not Iron
Normal Cycle
Use Non-Chlorine Bleach
Wash Cold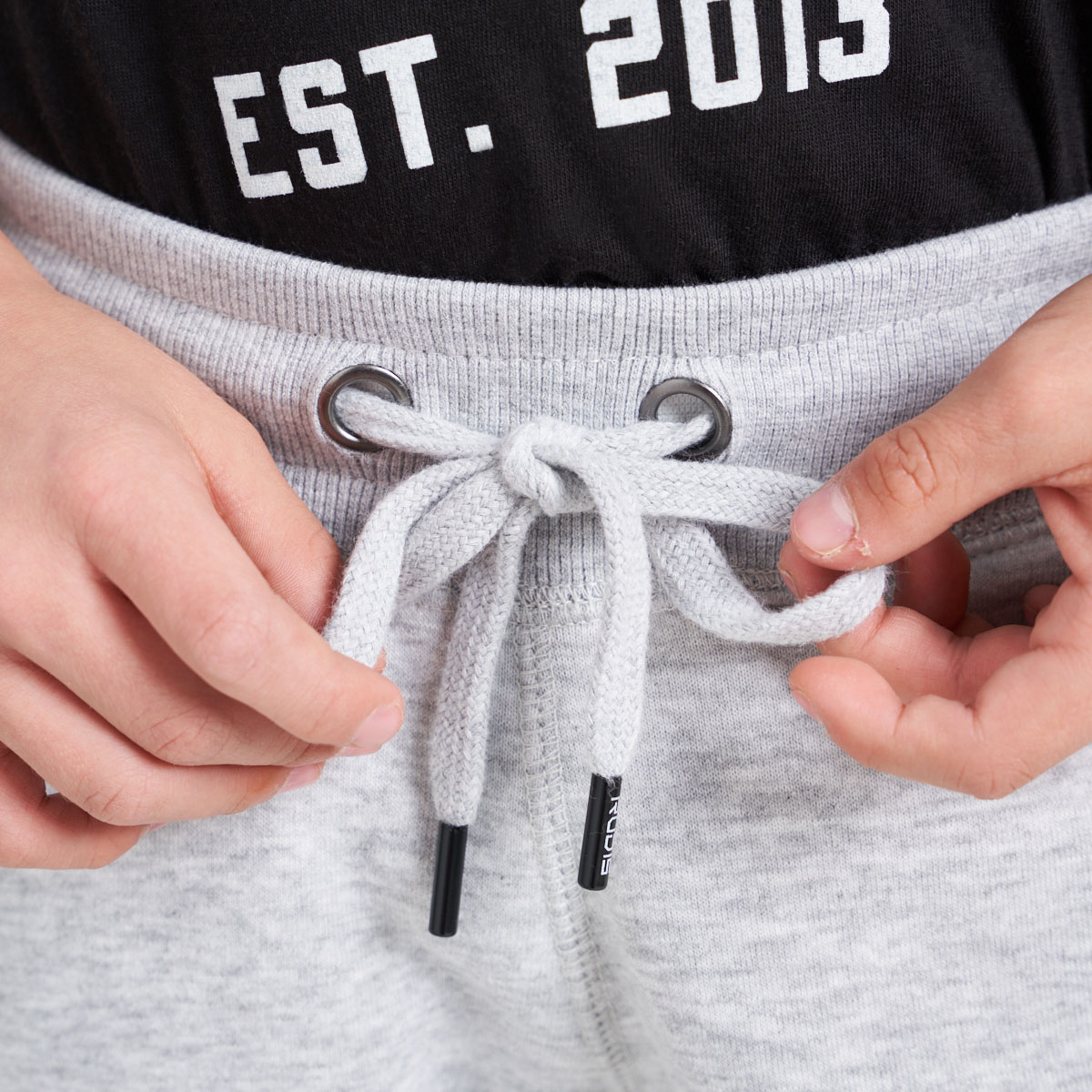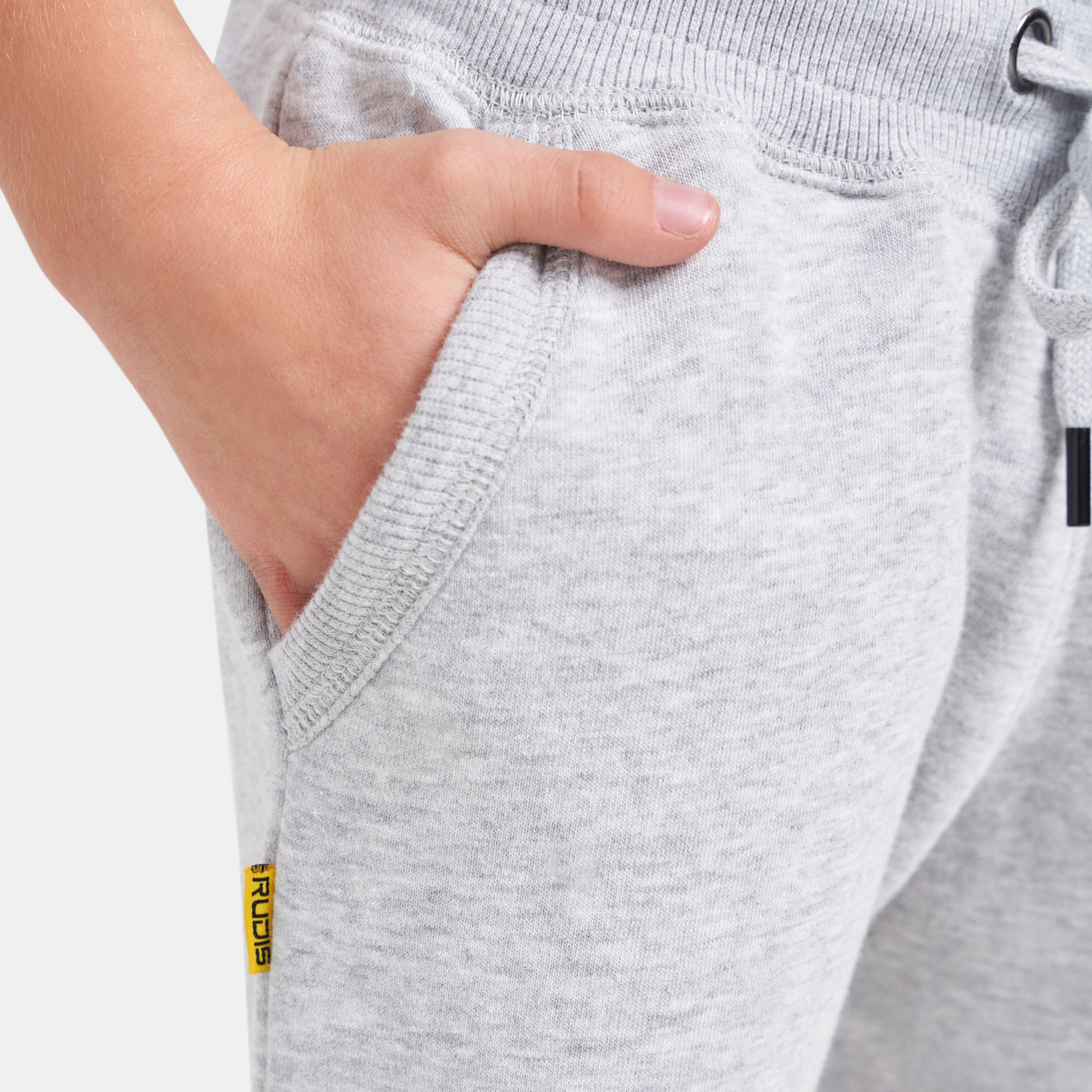 Size Chart
Size chart includes sizing information for apparel, socks, men's, women's, and youth singlets. Scroll down for more information.
Apparel Size Chart
| SIZE | CHEST (IN) | WAIST (IN) | HIPS (IN) |
| --- | --- | --- | --- |
| XS | 33-36 | 26-28 | 33-36 |
| SM | 36-38 | 31-32 | 35-37 |
| MD | 38-40 | 32-34 | 37-41 |
| LG | 42-44 | 34-36 | 42-46 |
| XL | 46-49 | 36-40 | 44-48 |
| 2XL | 50-54 | 42-46 | 46-50 |
| 3XL | 54-58 | 47-52 | 52-58 |
Sock Size Chart
| SOCK SIZE | MEN'S SHOE SIZE | WOMEN'S SHOE SIZE | YOUTH SIZE |
| --- | --- | --- | --- |
| YOUTH | - | 4-8 | 1 - 5.5 |
| SM | 5.5 - 8 | 8 - 10 | - |
| MD | 8 - 10 | 10 - 12 | - |
| LG | 10 - 12 | - | - |
| XL | 12 - 14+ | - | - |
Men's Singlet Size Charts 
Men's Elite 2.0 Singlet Size Chart  
|  SIZE | WAIST (IN) | CHEST (IN) | LENGTH (IN) | APPROX. WEIGHT (LBS) |
| --- | --- | --- | --- | --- |
| XS | 24 1/2 | 27 | 30 1/4 | 79-105 |
| SM | 26 3/4 | 29 1/2 | 32 | 106-135 |
| MD | 29 | 32 | 32 3/4 | 136-160 |
| LG | 31 1/4 | 34 1/2 | 33 1/2 | 161-195 |
| XL | 33 1/2 | 37 | 34 | 196-225 |
| 2XL | 35 3/4 | 39 1/2 | 35 | 226-260 |
| 3XL | 38 | 42 | 36 | 261+ |
Men's/Youth Elite Singlet Size Chart
| SIZE | WAIST (IN) | CHEST (IN) | LENGTH (IN) | APPROX. WEIGHT (LBS) |
| --- | --- | --- | --- | --- |
| 3XS | 20 | 22 | 25 | 45-60 |
| 2XS | 22 1/4 | 24 1/2 | 27 | 59-80 |
| XS | 24 1/2 | 27 | 30 1/4 | 79-105 |
| SM | 26 3/4 | 29 1/2 | 32 | 106-135 |
| MD | 29 | 32 | 32 3/4 | 136-160 |
| LG | 31 1/4 | 34 1/2 | 33 1/2 | 161-195 |
| XL | 33 1/2 | 37 | 34 | 196-225 |
| 2XL | 35 3/4 | 39 1/2 | 35 | 226-260+ |
Youth Elite 2.0 Singlet Size Chart
|  SIZE | WAIST (IN) | CHEST (IN) | LENGTH (IN) | APPROX. WEIGHT (LBS) |
| --- | --- | --- | --- | --- |
| Y3XS | 17 | 17 1/2 | 15 | 20-30 |
| Y2XS | 18 | 19 | 18 | 30-45 |
| YXS | 20 | 21 | 22 | 45-55 |
| YSM | 20 | 22 | 24 | 55-60 |
| YMD | 22 1/4 | 24 1/4 | 26 1/2 | 60-80 |
| YLG | 24 1/4 | 27 | 28 1/2 | 75-85 |
| YXL | 24 1/4 | 27 | 29 1/2 | 80-105 |
Women's Singlet Size Charts 
Women's Elite 2.0 Singlet Size Chart
| SIZE | WAIST (IN) | BUST (IN) | HIP (IN) | LENGTH (IN) | APPROX. WEIGHT (LBS) |
| --- | --- | --- | --- | --- | --- |
| XS | 24-26 | 26-30 | 30-34 | 25 1/2 | 80-110 |
| SM | 26-28 | 30-34 | 34-38 | 26 1/2 | 110-125 |
| MD | 28-30 | 34-38 | 38-40 | 27 1/4 | 125-145 |
| LG | 30-34 | 38-42 | 40-44 | 28 1/4 | 145-160 |
| XL | 34-38 | 42-48 | 44-48 | 29 1/2 | 160-175 |
| 2XL | 38-42 | 48-52 | 48-52 | 31 | 175-180 |
| 3XL | 40-44 | 50-54 | 50-54 | 32 1/4 | 180+ |
Women's Singlet Size Chart
| SIZE | WAIST (IN) | BUST (IN) | HIP (IN) | LENGTH (IN) | APPROX. WEIGHT (LBS) |
| --- | --- | --- | --- | --- | --- |
| 3XS | 14-18 | 16-20 | 18-24 | 23 1/4 | 40+ |
| 2XS | 18-24 | 20-26 | 24-30 | 24 1/2 | 60-80 |
| XS | 24-26 | 26-30 | 30-34 | 25 1/2 | 80-110 |
| SM | 26-28 | 30-34 | 34-38 | 26 1/2 | 110-125 |
| MD | 28-30 | 34-38 | 38-40 | 32 3/4 | 125-145 |
| LG | 30-34 | 38-42 | 40-44 | 33 1/2 | 145-160 |
| XL | 34-38 | 42-48 | 44-48 | 34 | 160-175 |
| 2XL | 38-42 | 48-52 | 48-52 | 35 | 175+ |
Girl's Elite 2.0 Singlet Size Chart
| SIZE | WAIST (IN) | CHEST (IN) | LENGTH (IN) | APPROX. WEIGHT (LBS) |
| --- | --- | --- | --- | --- |
| Y3XS | 17 | 17 1/2 | 15 | 20-30 |
| Y2XS | 18 | 19 | 18 | 30-45 |
| YXS | 20 | 21 | 22 | 45-55 |
| YSM | 20 | 22 | 24 | 55-60 |
| YMD | 22 1/4 | 24 1/4 | 26 1/2 | 60-80 |
| YLG | 24 1/4 | 27 | 28 1/2 | 75-85 |
| YXL | 24 1/4 | 27 | 29 1/2 | 80-105 |
Wrestling Shoe Laces
| SHOE SIZE | LENGTH (IN) |
| --- | --- |
| 1 - 3 | 52" |
| 4 - 7 | 57" |
| 7.5 - 10 | 62" |
| 10.5 - 14 | 67" |
Journey Oval Shoe Laces
| SHOE SIZE | LENGTH (IN) |
| --- | --- |
| 1 - 2 | 49" |
| 2 - 4 | 53" |
| 4 - 7 | 55" |
| 7.5 - 10 | 58" |
| 10.5 - 14 | 61" |
Gray RUDIS Hex Premier Youth Joggers
Frequently Bought Together