Heritage USA Red Singlet
Sale price
$95
Regular price
$95 USD
Unit price
per
Product Overview

Heritage Low Cut singlets that mirror the USA singlets worn by Dave Schultz (Red) and Kenny Monday (Blue) at the 1988 Olympic Qualifying event in Topeka, KS.
Care & Maintenance

Do Not Iron
Normal Cycle
Use Non-Chlorine Bleach
Wash Cold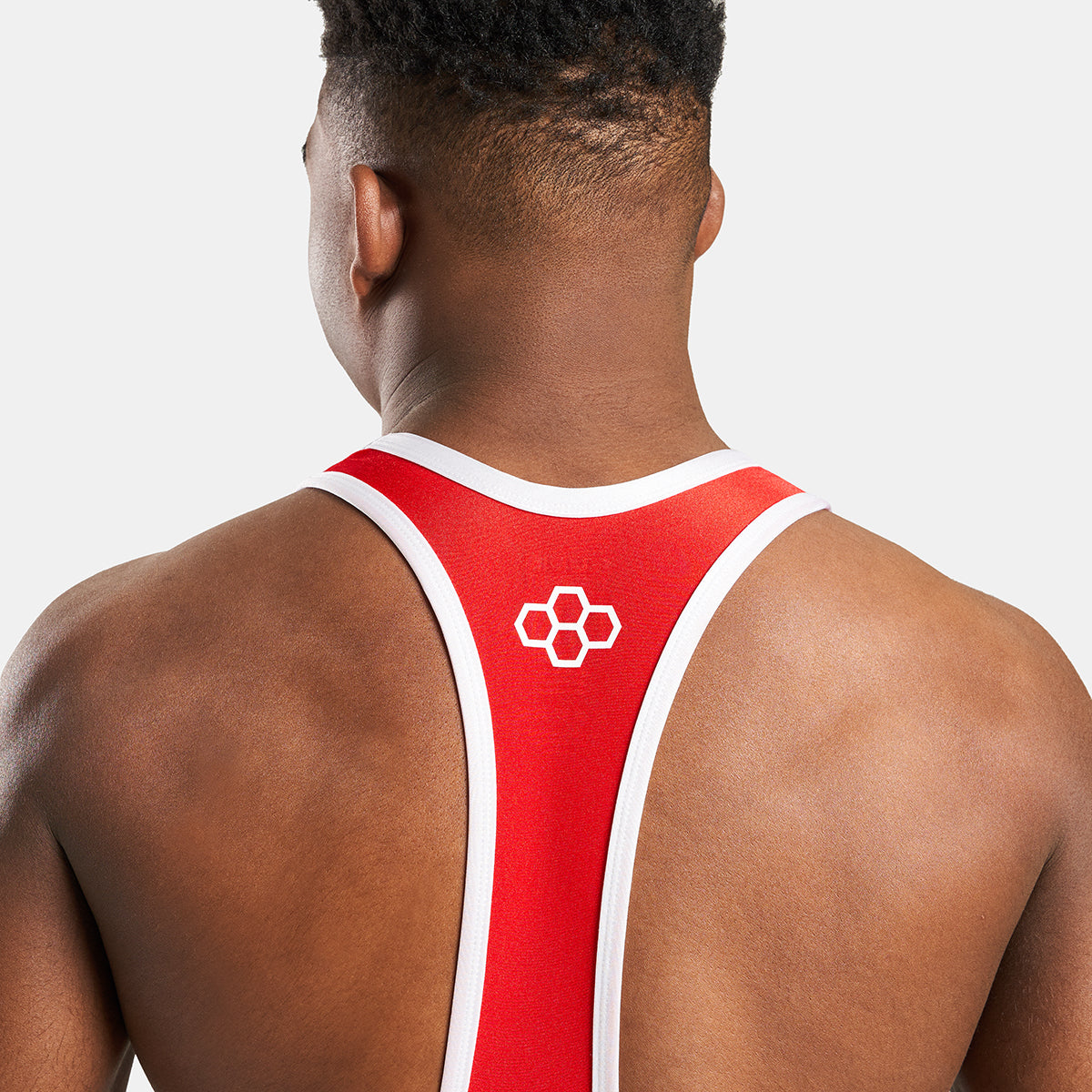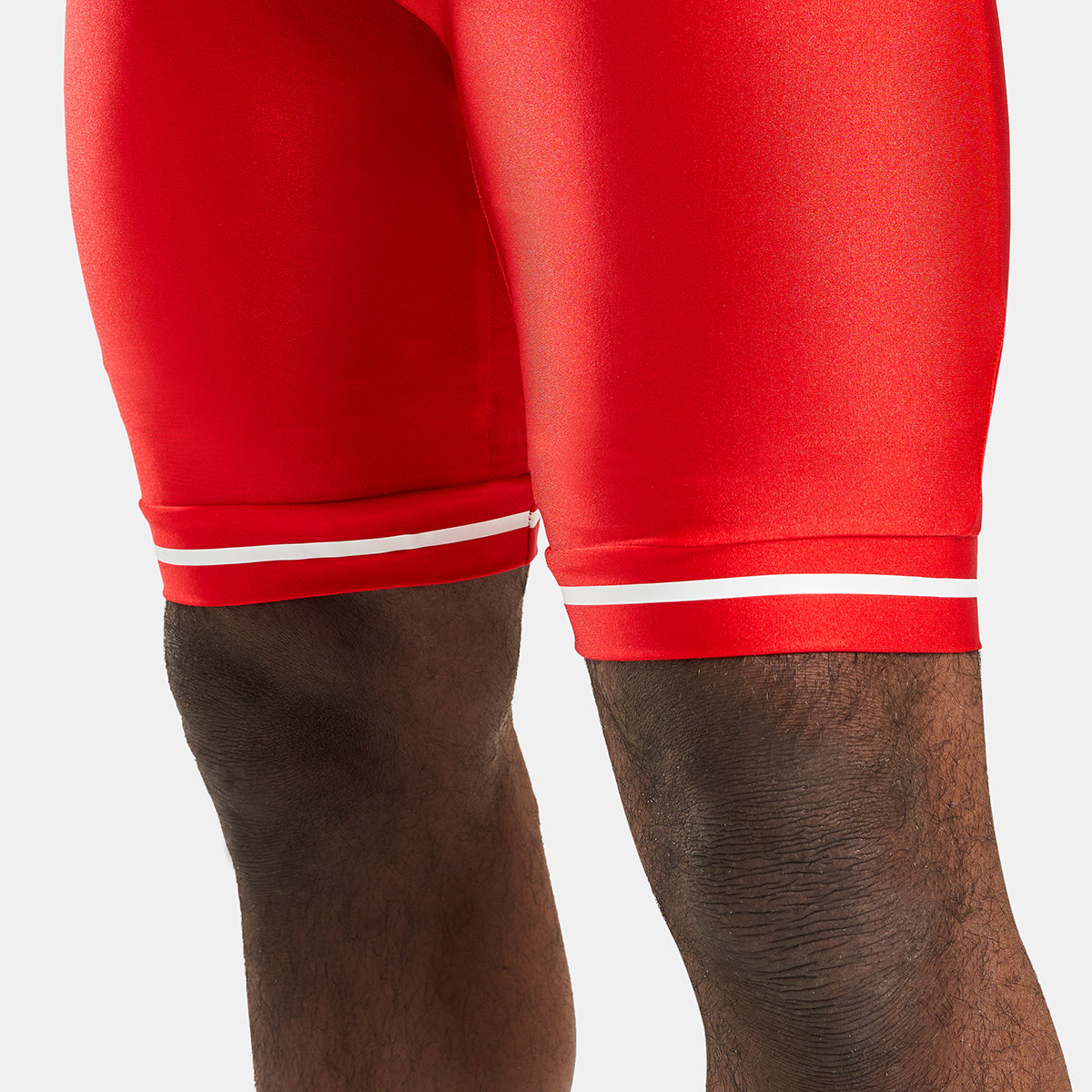 Size Chart
Size chart includes sizing information for apparel, socks, men's, women's, and youth singlets. Scroll down for more information.
Apparel Size Chart
| SIZE | CHEST (IN) | WAIST (IN) | HIPS (IN) |
| --- | --- | --- | --- |
| XS | 33-36 | 26-28 | 33-36 |
| SM | 36-38 | 31-32 | 35-37 |
| MD | 38-40 | 32-34 | 37-41 |
| LG | 42-44 | 34-36 | 42-46 |
| XL | 46-49 | 36-40 | 44-48 |
| 2XL | 50-54 | 42-46 | 46-50 |
| 3XL | 54-58 | 47-52 | 52-58 |
Sock Size Chart
| SOCK SIZE | MEN'S SHOE SIZE | WOMEN'S SHOE SIZE | YOUTH SIZE |
| --- | --- | --- | --- |
| YOUTH | - | 4-8 | 1 - 5.5 |
| SM | 5.5 - 8 | 8 - 10 | - |
| MD | 8 - 10 | 10 - 12 | - |
| LG | 10 - 12 | - | - |
| XL | 12 - 14+ | - | - |
Men's Singlet Size Charts 
Men's Elite 2.0 Singlet Size Chart  
|  SIZE | WAIST (IN) | CHEST (IN) | LENGTH (IN) | APPROX. WEIGHT (LBS) |
| --- | --- | --- | --- | --- |
| XS | 24 1/2 | 27 | 30 1/4 | 79-105 |
| SM | 26 3/4 | 29 1/2 | 32 | 106-135 |
| MD | 29 | 32 | 32 3/4 | 136-160 |
| LG | 31 1/4 | 34 1/2 | 33 1/2 | 161-195 |
| XL | 33 1/2 | 37 | 34 | 196-225 |
| 2XL | 35 3/4 | 39 1/2 | 35 | 226-260 |
| 3XL | 38 | 42 | 36 | 261+ |
Men's/Youth Elite Singlet Size Chart
| SIZE | WAIST (IN) | CHEST (IN) | LENGTH (IN) | APPROX. WEIGHT (LBS) |
| --- | --- | --- | --- | --- |
| 3XS | 20 | 22 | 25 | 45-60 |
| 2XS | 22 1/4 | 24 1/2 | 27 | 59-80 |
| XS | 24 1/2 | 27 | 30 1/4 | 79-105 |
| SM | 26 3/4 | 29 1/2 | 32 | 106-135 |
| MD | 29 | 32 | 32 3/4 | 136-160 |
| LG | 31 1/4 | 34 1/2 | 33 1/2 | 161-195 |
| XL | 33 1/2 | 37 | 34 | 196-225 |
| 2XL | 35 3/4 | 39 1/2 | 35 | 226-260+ |
Youth Elite 2.0 Singlet Size Chart
|  SIZE | WAIST (IN) | CHEST (IN) | LENGTH (IN) | APPROX. WEIGHT (LBS) |
| --- | --- | --- | --- | --- |
| Y3XS | 17 | 17 1/2 | 15 | 20-30 |
| Y2XS | 18 | 19 | 18 | 30-45 |
| YXS | 20 | 21 | 22 | 45-55 |
| YSM | 20 | 22 | 24 | 55-60 |
| YMD | 22 1/4 | 24 1/4 | 26 1/2 | 60-80 |
| YLG | 24 1/4 | 27 | 28 1/2 | 75-85 |
| YXL | 24 1/4 | 27 | 29 1/2 | 80-105 |
Women's Singlet Size Charts 
Women's Elite 2.0 Singlet Size Chart
| SIZE | WAIST (IN) | BUST (IN) | HIP (IN) | LENGTH (IN) | APPROX. WEIGHT (LBS) |
| --- | --- | --- | --- | --- | --- |
| XS | 24-26 | 26-30 | 30-34 | 25 1/2 | 80-110 |
| SM | 26-28 | 30-34 | 34-38 | 26 1/2 | 110-125 |
| MD | 28-30 | 34-38 | 38-40 | 27 1/4 | 125-145 |
| LG | 30-34 | 38-42 | 40-44 | 28 1/4 | 145-160 |
| XL | 34-38 | 42-48 | 44-48 | 29 1/2 | 160-175 |
| 2XL | 38-42 | 48-52 | 48-52 | 31 | 175-180 |
| 3XL | 40-44 | 50-54 | 50-54 | 32 1/4 | 180+ |
Women's Singlet Size Chart
| SIZE | WAIST (IN) | BUST (IN) | HIP (IN) | LENGTH (IN) | APPROX. WEIGHT (LBS) |
| --- | --- | --- | --- | --- | --- |
| 3XS | 14-18 | 16-20 | 18-24 | 23 1/4 | 40+ |
| 2XS | 18-24 | 20-26 | 24-30 | 24 1/2 | 60-80 |
| XS | 24-26 | 26-30 | 30-34 | 25 1/2 | 80-110 |
| SM | 26-28 | 30-34 | 34-38 | 26 1/2 | 110-125 |
| MD | 28-30 | 34-38 | 38-40 | 32 3/4 | 125-145 |
| LG | 30-34 | 38-42 | 40-44 | 33 1/2 | 145-160 |
| XL | 34-38 | 42-48 | 44-48 | 34 | 160-175 |
| 2XL | 38-42 | 48-52 | 48-52 | 35 | 175+ |
Girl's Elite 2.0 Singlet Size Chart
| SIZE | WAIST (IN) | CHEST (IN) | LENGTH (IN) | APPROX. WEIGHT (LBS) |
| --- | --- | --- | --- | --- |
| Y3XS | 17 | 17 1/2 | 15 | 20-30 |
| Y2XS | 18 | 19 | 18 | 30-45 |
| YXS | 20 | 21 | 22 | 45-55 |
| YSM | 20 | 22 | 24 | 55-60 |
| YMD | 22 1/4 | 24 1/4 | 26 1/2 | 60-80 |
| YLG | 24 1/4 | 27 | 28 1/2 | 75-85 |
| YXL | 24 1/4 | 27 | 29 1/2 | 80-105 |
Wrestling Shoe Laces
| SHOE SIZE | LENGTH (IN) |
| --- | --- |
| 1 - 3 | 52" |
| 4 - 7 | 57" |
| 7.5 - 10 | 62" |
| 10.5 - 14 | 67" |
Journey Oval Shoe Laces
| SHOE SIZE | LENGTH (IN) |
| --- | --- |
| 1 - 2 | 49" |
| 2 - 4 | 53" |
| 4 - 7 | 55" |
| 7.5 - 10 | 58" |
| 10.5 - 14 | 61" |
Frequently Bought Together